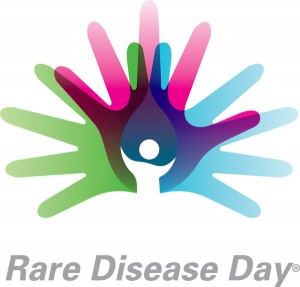 Every year, the last day of February is Rare Disease Day. Most years, this day lands on February 28th, and in rare years like 2016, February 29th marks Rare Disease Day. We encourage everyone who is affected by a rare disease to become involved. It can be as simple as a post on your Facebook page, or as involved as attending an event in your area to hosting a fundraiser at your home.
Here are some Rare Disease Day ideas to raise money and awareness for autoinflammatory diseases, aka the periodic fever syndromes, and the Autoinflammatory Alliance.
Social Media Ideas
Social media is the easiest way to participate in Rare Disease Day. Many families start early in February posting about Rare Disease Day and sharing about their disease and experiences living with a rare disease.
Ideas for Using Social Media to Join Rare Disease Day Efforts
Share how the Autoinflammatory Alliance has helped you or your family on facebook, or your blog. We would love to hear about it too!
Use the #autoinflammatory and #autoinflammatoryalliance hashtags for all to see your message.
Share rare disease facts such as:
80% of rare diseases are genetic.
1 in 10 has a rare disease.
Most rare diseases do not have an FDA-approved treatment.
Change your profile and cover picture to represent Rare Disease Day.  RareDiseaseDay.org has social media graphics that are free to download and use here.
Download the image, and take your picture to share online with the "Handprints Across America" NORD program for Rare Disease Day.
The Global Genes Project also has a number of helpful materials to use for Rare Disease Day.
Share this video by Novartis that gives a simple, yet informative explanation of periodic fever syndromes. The video covers TRAPS, CAPS, FMF, HIDS, PAPA, and Blau.
Advocate for Rare Autoinflammatory Diseases to Government Leaders, or the News Media
You can email, mail a letter or call their elected officials to address some concerns of our rare disease community, with a special focus on autoinflammatory diseases.
To help you out with ideas on issues that concern the patients in the autoinflammatory disease community, we have this one page overview of topics we are advocating for at this time. RDD_Autoinflammatory_Alliance_one page
Share your Rare Disease Story so the RDLA can help bring more awareness to your disease issues to elected officials!  There is a really easy to use submission form online.
There is also a lot of helpful material on the official US Rare Disease Day site for how to seek a proclamation from your governor for rare disease day, to how to write a letter to the editor of a newspaper or other media outreach.
Hold an online fundraising campaign for the Autoinflammatory Alliance
These donations will support our efforts to help patients and doctors dealing with these diseases. Click here to set up your own online fundraiser for the Autoinflammatory Alliance at Razoo. Your fundraising team will be featured on our razoo fundraising page too.  Take a look at some of the teams that have started by looking towards the lower right hand side of our fundraising page.
If you need our IRS EIN and tax-exemption letter, or a W-9 form for your fundraiser, please use these files:
AutoinflammatoryAllianceIRSletter
Videos to Use
Here are some good videos to use for presentations or your social media posts.
Periodic fever syndromes by Novartis
Dr. Lachmann speaks about fever syndromes in A lifelong challenge: periodic fever syndromes
Ariella's Story – Living with familial Mediterranean fever
Dr. Ann Reed discusses Autoinflammatory Disorders in this video.
What is Rare Disease Day? This is the official Rare Disease Day video from the National Organization for Rare Disorders (NORD).

School Ideas
Many people use Rare Disease Day to teach their child's class or entire school about rare diseases or their child's specific disease, and about compassion for those living with chronic diseases. Rarediseaseday.us has a number of activities, and even curriculum lessons for older students.  Hosting a fun awareness event, and fundraiser at your school is a great way to show your support for rare disease day! Please contact us if you need materials for fundraisers that benefit the Autoinflammatory Alliance.
Rare Disease Day Slide Presentation
This Rare Disease Day slideshow was created by a teacher and geared towards kindergarten through 6th grade. It explains in simple terms how mistakes in genes cause most rare diseases and teaches how kindness supports those living with a rare disease.
Coloring Pages
Use some of these free, downloadable coloring pages (scroll down this page to find some) for any of your Rare Disease Day activities. You could even host a coloring contest at your school. This page has the current theme in it, and would work well for using in your photos for "Handprints Across America" RDDColoringPage4
Genetics Lessons
Most rare diseases, including most of the autoinflammatory conditions, are genetic and start in childhood. This can lead into a perfect opportunity to teach kids some basics about DNA and genetics and include how mutations can affect a person's health. You can cover both recessive and dominant conditions as part of this lesson.
Educate About Your Family's Disease
You can do a lesson solely about the disease that affects you or your child. Depending on the age of the kids, you can make it simple and talk about the symptoms and medications, or for older high school age kids, get more into detail about genetics and the biological pathway that causes the symptoms. For visual aids, you can bring symptom log charts, thermometers, syringes (without the needles), and any other aids you or your child uses to relieve symptoms and monitor your disease.
Crafts, Activities, and Games
Jeans for Genes – Have the kids bring in old jeans and cut them up to make bracelets or pins.
One Rare Marble – Pass out marbles to all the kids. All marbles should be exactly the same except one. This leads into how one mistake in DNA can cause disease and you never know who it might affect. You can tape the marbles under the chairs before kids come into the class and have them find them, or pass them out in envelopes, so they can't see who will get the mistake marble until they look for it.
One Rare Grain – Fill bins with rice or a cereal such as Cheerios. Use something where all the grains are exactly the same and place just one that is different in the bin, such as one colored Cheerio or one colored grain of rice in a bin of brown rice. Then have the kids search for the one that's different. This simulates looking for the one tiny mistake in a person's DNA that is causing disease and shows how difficult that can be. Have them search with tweezers or other small tools to make it even more difficult.
Rare Bingo – Make a bingo game that relates to genetics or your specific disease. You can have bingo cards filled with symptoms, types of doctors involved in your care, or all different kinds of autoinflammatory diseases.
Living with Arthritis – Have kids put on thick work or gardening gloves and have them try to do every day activities like tie their shoes, write, or open doors. This simulates swollen, painful joints.
Check out our Genetics Pinterest Board for more genetic lesson plan ideas.
Follow Autoinflammatory Alliance/SAID Support's board Genetics on Pinterest.
Ideas for Work
Lunch and Learn – Some employers hold periodic mini seminars during lunch. This can be a perfect time to educate about rare diseases.
Jeans for Genes Donations – Hold a casual day at work. Encourage fellow employees to wear jeans on Rare Disease Day for a small donation. Another option is to sell jeans ribbons for employees to wear. Donations can be given to the Autoinflammatory Alliance by clicking here.
Community Service Projects
Through your school, scout troop, church group, or other community service organization, turn Rare Disease Day into a day of support and giving. Groups can take the hot sauce challenge as seen here, or organize your own project that brings awareness and donations for periodic fever syndromes.
Family and Friends Events
Many in our community have created some fabulous events to benefit the Autoinflammatory Alliance. With each of these events, guests were asked for donations, or profits from sales parties were donated to the Autoinflammatory Alliance. Some ideas: Have a wine tasting party, Scentsy party, jewelry party, or other themed event for your friends. Bunco or bingo night can also be turned into a Rare Disease Day fundraising event.
Autoinflammatory Disease Awareness Bracelets and Other Items
We have some fun silicone (latex free) bracelets that say "I care about rare autoinflammatory diseases" on the front, and on the inside they say "One in A Million! autoinflammatory.org"  If you want some, please order them through this paypal button.  We have a suggested donation of $7.50 for 5 bracelets, and $15 for 10 bracelets.  Please specify in the comments area on the paypal payment page how many bracelets you need, and if you want adult or youth sizes. You can also email us at karen@autoinflammatory.org if you have any questions, or want to have supplies for a large fundraiser.
More for You