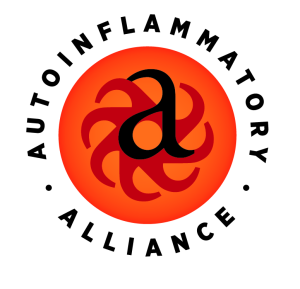 Welcome to SAID Support!
This blog is an initiative of the Autoinflammatory Alliance (formerly known as The NOMID Alliance) to help address many topics of interest to patients, family, friends, and medical professionals that are dealing with systemic autoinflammatory diseases (SAID). You can learn more about what we do to for patients, efforts to increase awareness about these diseases with medical professionals, and legislators here, or on our website.
Some of these diseases are also referred to as hereditary periodic fever syndromes, or periodic fever syndromes, but all of them are rare autoinflammatory diseases. The rarity of these diseases, makes getting a diagnosis, treatment, or support. a challenge for most patients.  Many patients never get to meet another patient with their disease in person.  Here at the SAID Support blog, and on our official website  you can find the information that you need to help yourself, your child, a family member, or a patient understand and care for their condition so they can live life to the fullest.
The Autoinflammatory Alliance is a 501 (c)(3) non-profit public charity dedicated to promoting awareness, proper diagnosis and treatment, and improved care for people with autoinflammatory diseases. We have some materials in online, and also available by request in print that can help you to better understand, and increase awareness for these diseases.
In addition, we help patients to find doctors that can help them with their symptoms, refer them to clinical trials, specialty centers doing research on these diseases, and other resources.  We also refer them on a case by case basis to other charities that provide medical travel assistance.  We also have moderated patient communities, and gatherings to help patients to connect with others from all around the world with their disease, and help them with advocacy issues, if needed.
---
The Autoinflammatory Alliance is a nonprofit organization dedicated to helping those with autoinflammatory diseases.
Donate now to help with awareness, education, and research for these rare diseases.
---