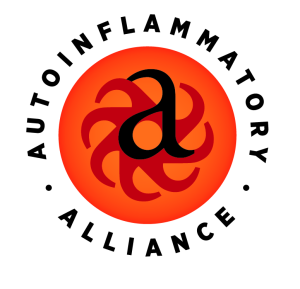 Want to become more involved and help the nonprofit organization Autoinflammatory Alliance and patients with these diseases? Below are some ways you can become more involved and help raise donations and/or awareness for these rare diseases.
Donate to the Autoinflammatory Alliance – Your funds will help bring awareness and education materials to patients, their families, and doctors. Every little bit helps.
Go Shopping!
Set your Amazon Smile to donation to the Autoinflammatory Alliance by clicking here and a percentage of each sale goes to the Autoinflammatory Alliance.
Register at eScrip. By shopping at any of your favorite stores online, such as Amazon, T-Mobile, or Land's End, through eScrip, a percentage of your purchase will be donated to the nonprofit of your choice. Escrip Group ID: 500043177 (still under the former name NOMID Alliance).
Buy Autoinflammatory gear at CafePress.
Hold a Fundraiser
Many patients or their families and friends in our community have held fundraisers to help support the Autoinflammatory Alliance and raise awareness for these diseases. Some past fundraisers families have organized, have included organized walks, Ladies Rare Night Out, bingo night, Sentsy fundraisers, and fundraisers at work. You can create your own fundraising idea. Just let us know how we can help support and promote your event by contacting us.
Participate in Current or Yearly Fundraisers
Some of our current, on-going, or yearly fundraisers that you can participate in include:
Help Educate and Raise Awareness
You can order or print any of our educational materials and use these to pass out to family, friends, and doctors. Education materials put out by the Autoinflammatory Alliance include:
Click here to request any of these resources to pass out in your community or at a fundraising event.
Social Media
If you are active on Facebook, Twitter, or any other social media site, you can share Autoinflammatory Alliance posts and updates. Here are some good educational videos to share as well.
Rare Disease Day
Rare Disease Day is the last day in February every year. Find events near you and other ways to get involved at the Rare Disease Day website, or click here to see ideas on starting your own event.
Make Raising Awareness Your Community Service Project
Scouts, middle school, and high school students looking for a community service project can earn hours by raising awareness and donations for the Autoinflammatory Alliance. Come up with your own campaign, or use this idea. Contact us for more information.
---
The Autoinflammatory Alliance is a nonprofit organization dedicated to helping those with autoinflammatory diseases.
Donate now to help with awareness, education, and research for these rare diseases.
---